A two-part blog...
First, I found this survey thingie, and y'all know how I loooovvveee surveys. It's basically this: 13 things you want to accomplish before the next big milestone (20, 30, 40, 50, 60, etc.). As I've got five years (yikes, wait, only four and a half!) before I hit the Big Three-Oh, here are my 13 things I want to accomplish before I turn 30. Feel free to play along!!
1. Complete (or be at least 80% done) with my doctorate program.
2. Have a baby!! (My husband cringes as he reads this, lol!)
3. Go skiing. And learn to surf (it's been a dream of mine).
4. Present a paper at a conference at least three more times, and have a couple of papers published.
5. Buy a bigger house, one kid-ready.
6. Go to one of the women's conferences at our church (as I've never gone as of yet).
7. Get into a habit of doing a daily Bible study instead of doing it irregularly.
8. Go on a super-awesome vaca. I'm not really picky as of where. I mean, Bora Bora, Maui, or Europe will do... ;) Lol!!
9. Learn how to speak Spanish.
10. Read a book a month.
11. Serve a full six years in Junior Auxiliary. (I'm on year two now.)
12. Exercise regularly.
13. Become a better prayer warrior.
Your turn!
Okay, so now on to Part Dos (see, look, already know a little Spanish, haha!). If you go visit
Rach's
site, you'll find a lot of super awesome things about Rach and her husband Josh. Such as Rach's love for The Bachelor. Or that her husband is an intern pastor. Or...that she and her husband are trying to adopt a baby from South Korea.
And YOU, my wonderful friend, can help out and be blessed in more ways than one!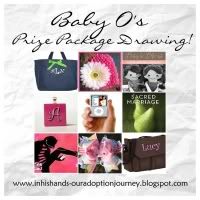 Click on the picture (if it works) or on her name in the big graf above and learn how to participate -- help a Godly couple out AND get a chance to win some seriously awesome prizes.
Okay, so now I'm off to create a syllabus, figure out what do to with graduating seniors, and grade some papers. Yuck...I mean, uh, Yea!!! Lol.